Introducing DPi Simply Maintenance
We've probably all experienced the need to have your website updated or maintained: Google Analytics added, a GTM (Google Tag Manager) code snippet placed, minor text and images updated, etc. But, unless you're the person who updates your business or organization's website, that seems like a pretty daunting task. I mean, how do you go about adding a GTM? Where do you add the Google Analytics code snippet? What's a plugin? The list is pretty endless.
Luckily, there's an affordable website maintenance solution.

DPi Simply Maintenance is a program offered by DPi Graphics that offers website maintenance for an affordable monthly fee. Do you have to buy a website from us? No. Do you have to have SEO managed by us? No. DPi Simply Maintenance is just that – website maintenance. Why? So you don't have to. So your website changes and updates get done quickly and accurately every time.
The program consists of three pricing tiers: Web Presence, Small Business and Professional, shown below.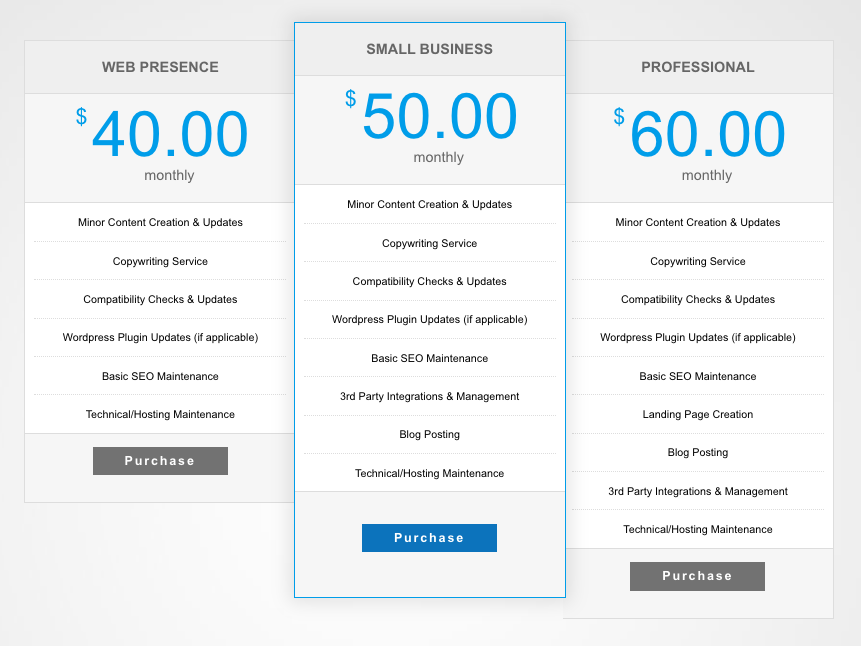 Why is it so affordable? Well, for starters, our mission is to help small businesses and startups develop a strong marketing plan and that includes website maintenance. An unmaintained website sends a clear message to potential customers and hackers that you don't really care about your online presence. That simply shouldn't be. And though we may not have built your website – on whatever platform or programming language it is built in – we'll maintain it and keep it updated.
We're experienced with a lot of the major website builders – Squarespace, Weebly, WordPress, Bootstrap, to name a few – as well as well versed in HTML5, Javascript and CSS. Not only that, but we're well versed in website security and will make sure your website is secure and that you're practicing good safety measures. On top of all that, we'll do some basic SEO maintenance – keywords on pages and general site SEO. For deeper SEO analysis and services, however, you should consider looking into having us manage your SEO as well. Finally, blog post and landing page creation is included in our Small Business and Professional plans to allow for more advanced maintenance to meet your needs.
Really? Even if you don't build our website? Why?
Yup. Because once you have your brand spanking new website designed, you cut the designer loose. Some offer maintenance periods as part of the new website (like we do) but most don't. Sure, they'll fix something that was broken to start with but after that, you may never hear from them again. We're trying to change that. Every business or nonprofit deserves to have someone who'll take care of their website, regardless of who designed it, and keep it up to date.
Maybe you have an older website that you can no longer keep updated because the person who kept it up to date isn't with the company any more. Or, you simply don't have time. We've seen both scenarios and in both instances, DPi Simply Maintenance is a great solution.
The other thing is that we've seen a number of websites in our time. Many haven't been maintained and some have been hacked into. We're aware of the phishing scams for folks trying to gain access to your hosting account. We can tell what's really from your host and what's a garbage phishing scam. No one – regardless of whether you're our client or not – should have to deal with having to determine what's a phishing attempt and what's not. Let us help.
It's all about peace of mind.
At the end of the day, what do you REALLY want? It's peace of mind, isn't it? You want to know that your website is secure and in good hands. You want to know that your changes will be made promptly and accurately. You want someone looking out for your website all the time.
Ultimately, DPi Simply Maintenance will allow you to worry about more important things – like your business. Check out our plans and decide if they work for your business. If you have questions, reach out to us at simply.maintenance@dpigraphics.net.