Is Print Dead? 3 Ways to Use Print to Increase Your ROI
Printed collateral has been the age-old medium of choice for marketing – events, products, services – print had a pretty good thing going for itself before the age of computers, social media and digital marketing. So, how does it shape up now? Is print dead? True, the impact that the internet has had on marketing has been outstanding and social media has blown the B2C market wide open for brands looking to engage with their customers, but where does print fall in all this? Is printed media a thing of the past?
On the contrary, print is alive and well. In fact, direct mail, still has the best response rate in marketing with a 5% response rate. That may not seem like much but when compared with email, paid search, online display and social media, .6%, .6%, .2% and .4% (Compu-Mail, July 14, 2017) respectively, direct mail tops them all. You're probably thinking, "That can't possibly be right. I throw away every direct mailer that comes into the house." That may be. But, for every $167 spent on direct mail in the U.S., marketers sell $2,095 in goods. That's a pretty good ROI.
So, what are some tried and true ways of using printed media to increase your ROI?
Direct Mail

As seen through the statistics above, direct mail is still relevant and effective amongst today's marketing methods. You may say, "I throw away more direct mail than I keep", however, but 56% of consumers who responded to direct mail went online or visited a brick and mortar store (Small Business Trends, January 10, 2017). The thing that direct mail has over email and digital marketing is that it puts a physical, tangible promotional piece in their hands. In order for recipients to act on it (either redeem or discard) they have to look at it and determine whether it's something worthy of their interest. How many digital advertisements and email solicitations have you overlooked because you could?
Promotional & Informational Signage

Promotional signage is everywhere – from freestanding P-O-P banner stands to giant roadside billboards, it's near impossible to avoid seeing some kind of signage everywhere. Signage is used in a variety of ways on smaller levels than billboards and signs though. Check out your local supermarket's community board. Visit your town library and look around at all of the printed signs telling you when the next story time is, where to find the newest release or even library hours. The point is, signage plays as much of a promotional role as it does informational, and it's everywhere. Oh, and it works.
Local Print Advertising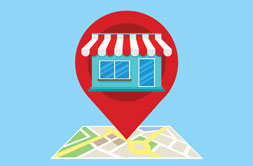 This may seem like an obvious (or not so obvious) method of promoting your business and its services, but local advertising is effective and reaches the customers closest to you. Even Google has changed its algorithms to show you on a given search local search results first above the others. Local print advertising performs better than online advertising because it has shelf life – that is, it may be around for weeks, months or until that diner downtown changes their placemats.
These are just three of a laundry list of things you can do to help increase your ROI using traditional print media to supplement your online efforts. Yes, I said to supplement which means that you'll likely have to do both depending on target audiences and personas are setup. For more on target audiences and personas, read our posts about each here and here, respectively.
Print advertising isn't just about promoting you – it also helps promote community. Why is promoting your community a good idea? Building a solid local community is tough and being part of it is essential to the success of your business. Community supports community. Don't underestimate the power of referrals from people in your community.
What ways do you use print to increase your ROI?