How to Create a Compelling About Us Page
Perhaps one of the most important pages on your website is your about us page. It's the page that visitors will often go after they've arrived on your home page (if you're lucky enough that they've stuck around that long) to learn more about your business or nonprofit. However, if you don't have an about us page, or if your about us page isn't optimized to help convert visitors into customers, you are missing a big opportunity on potential sales and positioning your business as an expert in your industry.
ANATOMY OF A HIGH CONVERTING ABOUT US PAGE
The anatomy of a high-converting about us page includes 8 basic elements: an overview of your business or organization, relevant images and videos, a history of your business or organization, team members, partners, testimonials, accomplishments and certifications and most important, your contact info or a way to contact you. We'll go through each of these separately and share some best practices on how to display your information in a manner that will encourage visitors to convert.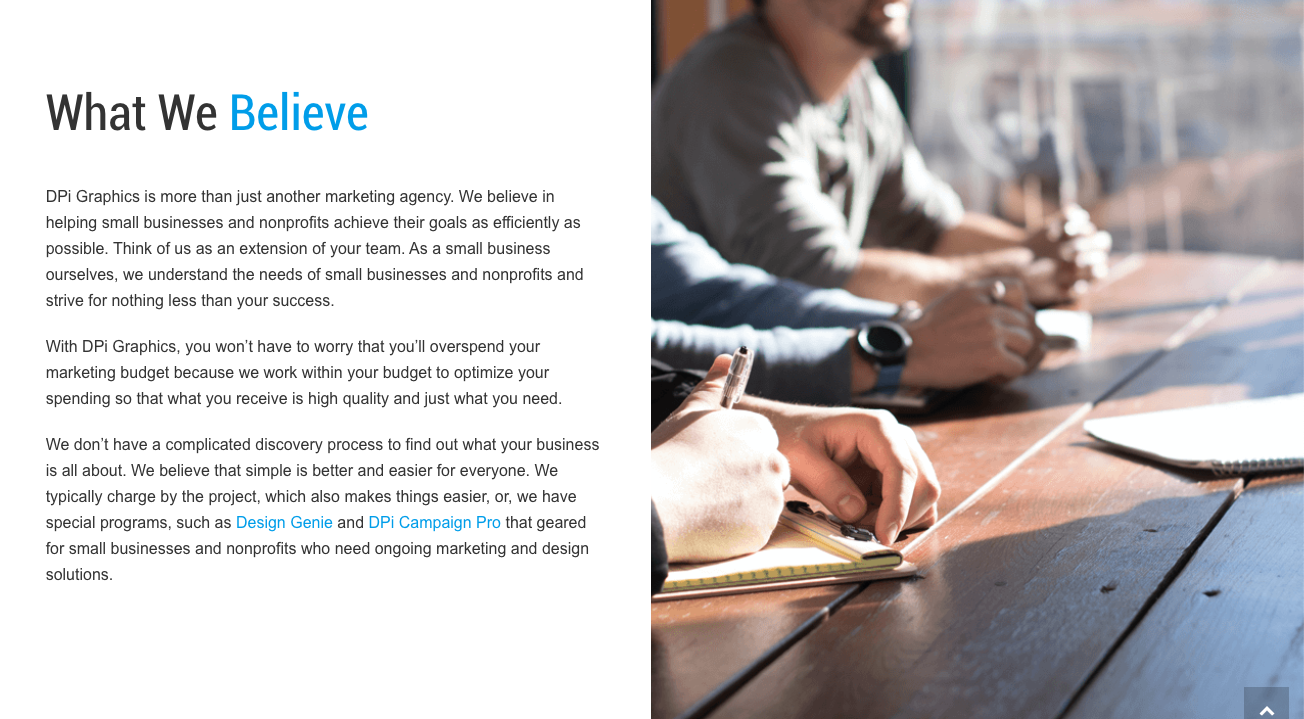 BUSINESS OR ORGANIZATION OVERVIEW
This section of the about us page should answer the 5 Ws – who, what, where, when, why AND if necessary, how. Who are you? Who started your business/nonprofit? Who do you serve? People want to know who is involved with an organization and that it isn't this faceless entity. Consumers want to feel a connection with the brands they use, so making sure you "humanize" your business/organization can help foster that connection.
It's important to be explicit about what you sell or provide – what your niche is. Because, if your niche is everyone, then your niche is no one. This isn't a place to list every item you sell or list every service you offer – rather, it's a place to give a high level overview of what your company does (and link to pages within your website that correspond to the products and services you provide). Linking to pages within your site helps for two reasons – first, and most obvious, visitors reading can quickly click to the product or service that interests them from within your text. Second, internal site links help with SEO and ranking importance of the pages linked-to.
You'll want to supply information like where your business or organization is headquartered – or if you have multiple locations. Location helps greatly in local search results for people find products and services near them. Your about us page is a place to reinforce that information – not only where you're located, but where you provide the services you offer as well. If you have a showroom or a place where consumers or members can visit you in person, you'll want to include your hours of operation, too.
Perhaps the most important information in your company overview is your why – why did you start your business? What is your nonprofit's purpose? Typically, this includes things like your mission and vision statements. Haven't created a mission or vision statement? Not sure what your "why" is? Check out this book – it'll help you figure that part out.
Finally, if you feel so inclined to divulge how your products or services work, you could do that here as well – but don't write a book – remember, it's an overview – a place to give them enough information to answer basic questions but leave enough room for them to want to know more.
RELEVANT IMAGES & VIDEO
The media you use should compliment your brand – for instance, if your brand uses off-beat, casual language describing what you do and how you do it, you'll want to use images and video that compliment that – isometric illustrations, vector art, actual candids of you and your employees interacting, etc. Try to keep stock photography to a minimum – but if you must, be selective. There are lots of resources out there (check out this podcast episode with Jesse Nicoli for some of those resources) to find free stock photography and graphics that isn't iStock or Shutterstock, which are heavily overused.
I can't over-stress the importance of using actual photography of your business or organization, your people and products. It adds legitimacy to your business and once again associates your business with actual people and not a faceless entity. Stock photography is great for instances where you can't get actual photography, but should be used sparingly and selectively.
Finally, make sure you're using quality images for your about us page, as well as your entire website. I even try to make sure the images don't differ in style from page to page so that there's a consistent look and feel to my entire website and brand. Remember, visitors to your site are likely formulating first impressions based on just your website and its content, so you want to make sure everything looks and feels right.
With regard to video – video can really help give your site an SEO boost as well as providing an interactive facet to your about us page. But be careful – video for the sake of having video isn't always good. Like your images, your video should be high quality and represent your brand well and it should feel like it is consistent with the rest of your website.
BUSINESS OR ORGANIZATION HISTORY
Here's where storytelling really comes into play. Everyone loves a good story – particularly from humble beginnings. Consider your business's beginnings and when it was founded. What was it like building the business over the years? Was it built by one person, two or a group? Become the storyteller for your brand and really pull the reader into your story. Your company history should include part of your why – it might have a personal story to it, much like DPi Graphics.
For instance, DPi Graphics was born out of misfortune – my misfortunes, mostly – with jobs early in my career. Lay off after lay off, I decided there had to be something better. And there was. There is. And, over the years, my focus – the focus of DPi Graphics has changed – but that's just it. It's part of the history of the company. My story is intertwined with DPi Graphics's story which is why telling it makes for easy and good storytelling.
Think about the personal parts of building your company and how you can relate to the person reading it. Was it born out of misfortune, like DPi Graphics? Or was it created on the back of a napkin in a restaurant? Did you hatch the idea over beers with friends? Really dig deep and dig out that origin story and the history will write itself. It's ok to romanticize your history just as long as it remains factual – stay close to the "source material", so to speak.

TEAM MEMBERS, PARTNERS & TESTIMONIALS
As said before, it's important to include team members – your employees – on your about page. Why? Well, because it legitimizes your business with actual people. Some businesses go as far as to include their employees emails and LinkedIn profile links, which isn't necessary, but it's a nice touch. Connecting and networking on social media has always been important and if potential customers (or members) can connect and interact with your business or organization on sites like LinkedIn, it can go a long way toward making that sale. Professionally done (or at least if they look professionally done) headshots or candids should accompany any employee or team member listing on your about us page. Again, you want to give the impression that you're professional and take pride in your online presence.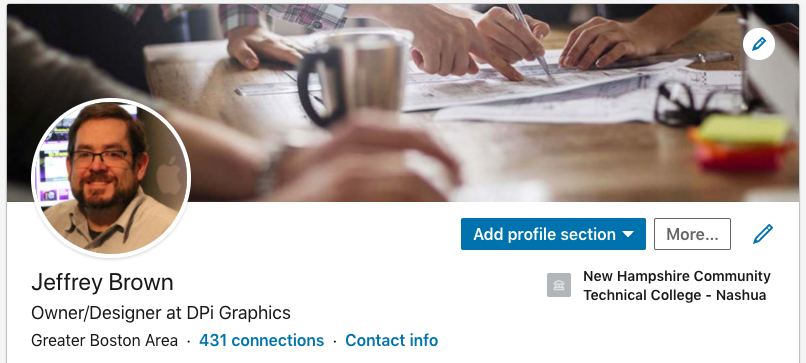 Identifying partners and clients is also a good idea to do on your about us page. It also legitimizes your business by providing proof of who you work with. Typically, those clients and partners that you have a great working relationship with are best, but don't tip your hand too much – only include a smattering of your client/partner list so as not to allow your competition to mine your customer list and reach out to them to steal them away from you.
Finally for reasons stated before, testimonials are imperative on your website, as well as your about us page. Testimonials tie your customers and partners to your business adding greater legitimacy to you, your business and your work. And once again, team outbound links, client/partner outbound links and testimonials all help with SEO. Building a better about us page helps bolster your SEO as well.
ACCOMPLISHMENTS, CERTIFICATIONS & AFFILIATIONS
Listing your accomplishments and why visitors should see your business or organization and trust what you say helps add to the legitimacy that you've built with your company history, partners and testimonials. Certifications – especially professional ones – offer almost instant trustworthiness for many consumers, knowing that some types of certifications aren't easy to obtain. Be humble, but not too humble – be your own advocate and be sure you're stating your biggest accomplishments and why it's big – remember, be your biggest fan and tell your story. Lastly, affiliations, especially professional ones, are important to add that trust that consumers are looking for. If you sponsor charities or donate regularly to nonprofits or do pro bono work – say that too. People want to know how the companies they patronize give back to the community.
CONTACT INFORMATION
Your about us page should have a clear CTA (call-to-action) and a way to contact you, either for more information to some other desired action. I've found that a pop-up form on the about us page is the best way to capture leads without having the visitor navigate from the page they're on. Capturing leads on the page that they've made the decision to complete a contact form is important because the page they're on serves as a reminder of why they wanted to contact you. It's simple, but effective. Embedding a form in the about us page is also a good idea, however, depending on what you want the visitor to do, it may be wise to do a pop-up instead.
Including your social media site links is also an important part of adding your contact information to your about us page. Like your team's LinkedIn links, it provides a way for visitors to connect and engage with you on the social networks that they frequent. While we're on the topic of social media, if you're going to link to your social networks, make sure they are at least up do date with your branding and try to post at least once a week to keep things fresh.
PUTTING IT ALL TOGETHER
Now that you have all the essential elements of a kick-ass about us page, you need to put them together in a cohesive design that's going to get conversions. But how? Well, here are a few steps I tend to follow when building out a good about us page:

A bold headline (<h1>) and subheadline that will make people scroll to learn more
Your company overview accompanied by a great image representing your brand
Add supporting content (company history, mission, vision, etc.) and media
(images & video)
Add call-to-action section with contact form or info
More supporting content
Bottom of page before footer – call-to-action redirecting to previous contact form

Now, these steps are a great start when it comes to planning your about us page, however, I always design pages based on the content that you have – and you should too. You might have more or less that you want to add – a blog post carousel, email newsletter signup, video overview, a smattering of your products or services – whatever might enhance the page and answer those who, what, where and when questions.
Make sure that your about us page has plenty of calls-to-action – a button (like the "start your first project today!" button above), an inline text CTA with a link, an image – and make sure it drives visitors toward taking the desired action for the page – for instance, if you don't have a store with products to purchase on your site and want people to contact you directly, have the link go to launching a new email or to a form. If you do have products to purchase on your website, make sure you link to them so that they can make that purchase right then. It's important that your CTA lead the visitor to the same thing that they click on. For instance, if you sell widgets on your website, your about us page should have a link to the widgets product page and not another page on your site that talks about something completely different.
Ideally, you want to think of your about us page as another landing page – have a particular goal for the visitor and drive all your CTAs toward that goal. Each page of your website should be setup similarly with a page goal and having that goal ultimately move the visitor toward being a customer.
As a visitor scrolls down your about us page, the content that they see should lead them into the next piece of content – that is, they should become increasingly more interested as they scroll, if your content is arranged correctly. If your about us page content doesn't get you excited, it's not likely to get a visitor excited either. Remember, most people are reading your about page for the first time – make it worth reading.
CONCLUSION
By assembling the essential elements listed above in a thoughtful, interesting and cohesive way, your about us page will begin to convert visitors into customers in no time. Make sure you treat it like you would any sales or landing page by optimizing it for conversions. Have all your calls-to-action direct to a central place to perform a single goal action. Make your content interesting and worth reading/viewing.
How does your about us page convert? What elements do you use on your page? What do you think should be added?