8 Email Automation Campaigns to Boost Engagement & Conversions
Imagine speaking to your dream customers at the perfect time with relevant, value-adding content, time after time. This might seem like a big, time-consuming undertaking, but thanks to email automation, it doesn't have to be.
Automated email campaigns consist of targeted, relevant emails triggered by a user's action (e.g., subscribing to your email list, placing an order, or downloading a content offer). They are a powerful and efficient way to nurture leads and customers of every stage.
Are you new to email marketing automation? Here are eight campaigns to get you started on boosting your business.
Note: Automated email series require email software like MailChimp that allows you to set up workflows. Some of the following campaigns are simpler to set up than others, so take it one step at a time.
Welcome Series
Trigger: Subscribing to your email list
The welcome series is one of the first and most important email automation campaigns you will create. Think of your email list as a community. When people join your community, what is the first thing you should do? Welcome them and introduce them to your brand!
Not only do welcome emails WORK, but your audience looks for them. Welcome emails:
Have a 91.43% open rate (Hive.co)
On average, generate up to 320% more revenue per email than other promotional emails. (Invesp)
Are expected by 74% of consumers as soon as they subscribe. (WordStream)
Have you ever subscribed to a company's newsletter, and not even received a confirmation email? Seems odd, right? When someone subscribes to your emails, take the opportunity to begin building the relationship right away.
An automated welcome series should:
Welcome new subscribers: Introduce them to your brand.
Offer an incentive: Give a freebie or introductory discount.
Set expectations: What types of emails can they expect and how often?
Get their info: If your site has them create an account, gather their birthday, email preferences, and ask how they found you. (This is a great chance to learn more about your target audience!)
Pro tip: Include an introductory video in your first welcome email to provide a personal experience.
New Customer Workflow
Now that you've closed the deal (woohoo!), it's time to start off your new customer's experience on the right foot. New customer workflows are essential to strengthening customer retention.
A good way to begin is to prepare them for the arrival of their product or the start of their service with helpful tips and info. Use these emails to educate your customers, particularly if your product or service requires some training.
Typically, a new customer drip campaign includes the following emails:
Welcome/Thank You Email: Send immediately after purchase. Thank them for joining your family, share a bit about your brand, and tell them next steps.
Follow-up Email: Send ~2-3 days later. Ask them how their purchase experience went and encourage them to get in touch with any questions or concerns.
Product Arrival: Send 2 days after the product's scheduled delivery. Ask customers if they received their product as scheduled and if it arrived safely. Give them an easy way to get in touch with delivery concerns.
Product/Service Review: Send ~4-5 days later. Ask customers for that ever-so-important feedback! This might be a survey or a star rating with a review.
Limited-time Offer: Send ~5 days later. Offer customers a little thank you based on their recent purchase. Give a discount on related items or share product recommendations.
Special Offer Reminder: Send ~1 day later. Use a sense of urgency and remind them of the time limit on their special offer.
Overall, your new customer email series should focus on building a relationship with the customer and keeping them engaged.
Pro tip: If your product or service has a learning curve, share helpful video tutorials, manuals, and guides with customers to ease the process.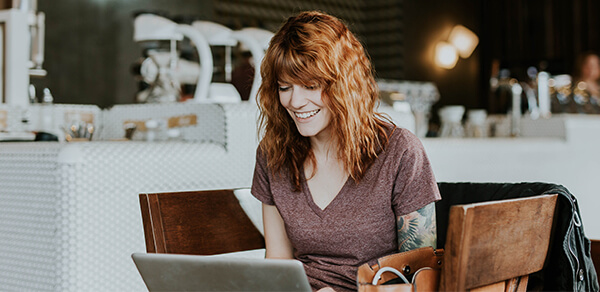 Birthday Series
Trigger: Contact's birthday/month
Whether we admit it or not, we all love a little something special on our birthday. This includes birthday offers from brands. According to Experian, birthday emails:
Have a 481% higher transaction rate than promotional emails.
Generate 342% higher revenue per email than promotional emails.
Have 179% higher unique click rates than promotional emails.
A birthday email automation is an easy way to make customers feel appreciated and build their loyalty. Plus, it makes your company seem thoughtful!
Give customers something on their special day or in their birth month. This could be a special deal, offer, or free gift. For example, Dunkin' offers a free beverage good within seven days of the customer's birthdate. Many retailers send discounts like 10% off your next order.
Pro tip: If you send the birthday offer early, send a reminder to help boost conversion rates.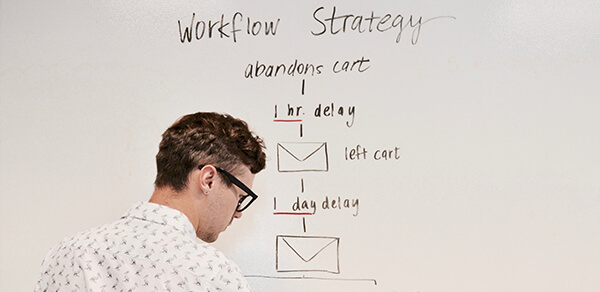 Abandoned Cart Series
Trigger: Adding item to online shopping cart without buying
According to OptinMonster, today's cart abandonment rate is around 76% and it's responsible for $4.6 trillion in lost ecommerce sales a year. That is a LOT of revenue left on the table.
Luckily, you can take action: Implement an abandoned cart email sequence to remind shoppers of what they left behind. An effective abandoned cart workflow shows prospects the benefits and uses a sense of urgency.
The ideal schedule and number of emails varies greatly by business and industry, so you should always be testing and monitoring your abandonment emails. If you're starting from scratch, try this 3-email sequence:
Email 1: Show them the product they left behind and reminding them of its benefits.
Email 2: Respond to common objections. (This could be particularly useful for high-ticket items.)
Email 3: Offer an incentive like a limited-time discount or freebie.
Consider your product or service when testing timing and frequency. Keep in mind that low-value, fast-moving purchases require less consideration time than large-ticket purchases.
If you're wondering how well abandoned cart emails work, Moosend reports abandoned cart emails have an:
Average 45% open rate
Average 21% click-through rate
Average 10.7% conversion rate
It's safe to say that abandoned cart series are worth the time and effort!
Pro tip: Instead of giving an incentive upfront, test out giving it in the final email of your workflow.
Topic Workflows
Trigger: Page view or content download
Did your newest contact just check out a specific page or download your free content? That is the perfect opportunity to hit them with the exact info they're interested in!
For example, say you're a professional organizer and your lead magnet (i.e., free offer) is a free e-book on closet storage and organization tips. You should create a topic email series with nurturing messages featuring additional tips and ideas on closet space, sent to contacts who download your e-book. You can also direct them to other content like blogs and videos or even upcoming events like a masterclass.
Topic workflows are all about providing your audience with a solution. This is your chance to provide your prospects with value, thereby building their trust in your business.
Pro tip:< Make sure your free content offers are gated with a form requiring visitors to provide their email address to receive the freebie.
Re-engagement Workflow
Trigger: Disengaged Contacts
Churn, or subscribers leaving your list, is a normal part of email marketing. The average email list churn rate is about 25 to 30% a year. This is where our next automated email campaign comes in. A re-engagement workflow is an easy way to either re-engage contacts or remove those who are completely inactive.
The thought of removing contacts from your list may scare you, but it's actually an important step in maintaining a healthy email list. Too many inactive contacts can affect your email deliverability rate because email service providers (like Gmail or Outlook) will send you to spam.
Plus, you're paying for those contacts on your own email marketing platform—do you really want to be paying for people who aren't even interested in your content?
To create a re-engagement series, you can set conditions like length of time since their last:
Email open
Form submission
Website visit
An easy starting point if you think you have a lot of inactive subscribers is to send the campaign to everyone who hasn't opened in six months. A basic re-engagement series looks like this:
Email 1: Remind them you're there and hit them with your special offer.
Email 2: Notify them that they will be removed soon if they don't take action.
Email 3: Unsubscribe disengaged contacts and let them know how they can re-subscribe.
Pro tip: Give a special offer like a discount or freebie (like free shipping or a free content download) to reignite contacts' interest.
Event Workflow
Trigger: Event registration or attendance
From webinars to conferences, events are a prime time to be in touch with your audience regularly. An event email workflow allows you to communicate with attendees before, during, and after the event.
Use this email series to share essentials leading up to the event like hotel information and the conference agenda. You might remind guests of other fun events during a conference, like after-hours mixers.
After the event, send attendees the replay, slides, or other helpful materials that help nurture them for future offers and events.
Pro tip: Survey attendees after the event to find out what they liked about it and where you could improve.
Upsell & Cross-sell Workflows
Trigger: Purchase history
An upsell or cross-sell workflow is an automated email series sent after a customer places or receives their order. These emails generally recommend other relevant products or upgrades.
For example, after a customer orders a large item like a desk, the company might recommend a desk chair or advertise add-ons like office accessories.
After a customer purchases a basic level subscription service, the business might send them an upsell email about their premium level plan.
An upsell workflow requires creating a dynamic list of contacts who purchase a certain product or combination of products. You can then create workflows aimed at recommending other products or services or pushing upsells or add-ons.
Note that this type of automated email campaign is complex and requires an adequate online shop and email marketing platform to work.
Pro tip: When creating upsell and cross-sell workflows, think of how you can give your customers even more value while increasing your bottom line.
Nurturing Audiences with Email Marketing Automation
Your email list is a captive and interested audience, so make the most of them! Email automation campaigns require some time and effort upfront, but will keep working for you long after implementation. With the proper workflows in place, you can significantly boost your customer engagement and sales.
The key is regularly analyzing your campaigns' performance. Always consider how you can continue adding benefits to your audience and where there is room for improvement. You don't have to get all of these automated emails in place at once, so evaluate your company's most urgent gaps and start there.
Just getting started with your overall email marketing strategy? Check out this post and then this one to figure out first steps!
About the Author
Stephanie Chabot is the founder of Chabot Creative, a copywriting and content marketing company. Her specialties are website copywriting, blogging, and email marketing. She is passionate about producing strategic, engaging content that helps brands connect with and build their audiences. Learn more about Stephanie and check out her portfolio at chabotcreative.com.