DPi Campaign Pro Turns One!

A FULL YEAR OF INTEGRATED, MULTICHANNEL DIGITAL MARKETING
Last year, we launched DPi Campaign Pro, a integrated multichannel digital marketing program that initially only utilized the MailChimp platform that included landing page design, email marketing, online and social ads, social posts and marketing automation and reporting. We quickly realized that while MailChimp's platform is robust in what it can do, some clients just need more, which is how the Essentials and Nonprofit plans came about, which utilize HubSpot and Salsa Engage respectively.
DPi Campaign Pro is now offered in three different flavors: DPi Campaign Pro Lite, which uses the power of MailChimp's CRM and marketing platform to create digital marketing campaigns all in a single dashboard; DPi Campaign Pro Essentials, which utilizes the HubSpot CRM for those who need a more robust digital marketing option; and DPi Campaign Pro Nonprofit, that uses Salsa Engage to help nonprofits build awareness and raise funds through an all-inclusive digital marketing dashboard.
Over the past year, we've helped businesses and nonprofits across the United States (and internationally) build their online presence and create a strong digital marketing strategy. We helped build dozens of different landing pages, setup several email marketing automation campaigns, created multiple fundraising pages generating thousands of dollars in donations, and developed successful social media strategies to increase traffic and engagement across our clients' social channels.
As we move through Q4 for 2021, you can continue to expect to hear more about DPi Campaign Pro and the exciting changes and improvements to the program. Need help with your digital marketing? Give DPi Campaign Pro a try.
WHAT CUSTOMERS ARE SAYING ABOUT
DPI CAMPAIGN PRO
"Jeff and DPi crushed our project! Not only were we in over our heads technically but we were nearing a deadline. Jeff was prompt, clear and calm."

says Bryce Gibson of Earth + Kin, a earth-friendly, family outdoor product startup,

"He delivered above and beyond and we will be working with him in the future!"
Rebecca O'Brien, IREM Foundation Director says,

"We were thrilled to work with Jeff at DPI Graphics. Our organization was overwhelmed with projects and Jeff was able to step in seamlessly thanks to clear communication and being accessible to answer questions and respond to requests quickly. DPI's work helped us fulfill our projects and continue our mission."
"Jeffrey did an excellent job. He reorganized our landing pages to an expert level, took our emails and organized them to become beautiful emails and great flow. We see better results since Jeffrey got involved with us. Whenever we had a problem with Mailchimp, he took full responsibility and talked with Mailchimp and set all up for our satisfaction."

said Rabbi Chaim Goldberg, Executive Director for the Noahide World Center,

"Jeffrey showed expertise and great relationship. I personally liked to work with Jeffrey and I recommend working with him."
To celebrate our first year of digital marketing with DPi Campaign Pro, we're offering a FREE content audit when you sign up for any of the DPi Campaign Pro plans – Lite, Essentials or Nonprofit, a $2500 value as part of your DPi Campaign Pro enrollment. What is a content audit? Click here or the image below to learn more about DPi Campaign Pro or to sign up and claim your FREE content audit. Hurry, though, the offer is only good until March 31, 2022.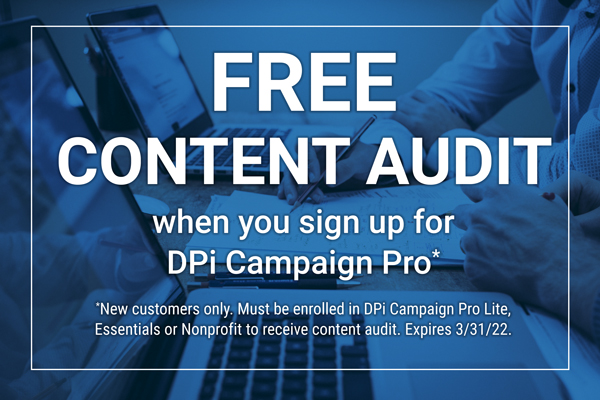 THE FUTURE OF DPI CAMPAIGN PRO
We're just getting started. We've got plans to expand DPi Campaign Pro to help you develop and implement a more successful digital marketing content strategy and increase our media offerings to include video creation and production, and provide a new dashboard for managing your campaigns as well as a repository of guides and resources to help give you the tools you need to maintain a strong digital marketing strategy. Look for these features and benefits in the next few months.
Not a subscriber of DPi Campaign Pro yet? There's no better time to jump into digital marketing than with DPi Campaign Pro right now!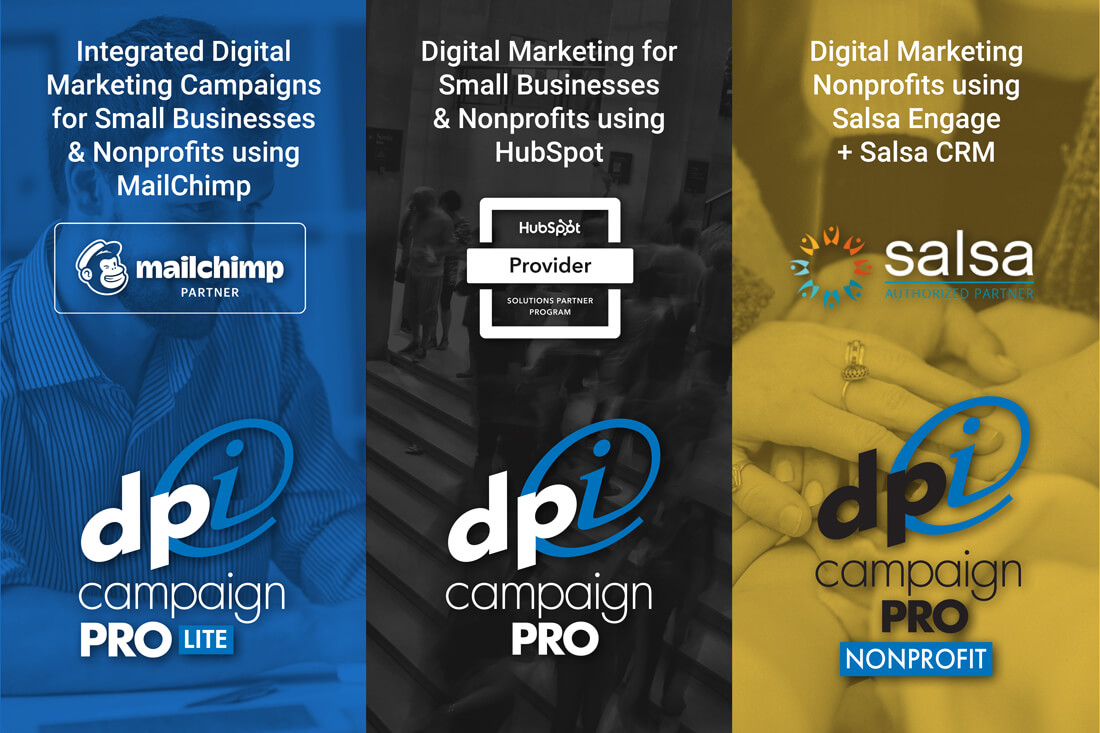 SIGNUP FOR OUR EMAIL NEWSLETTER!